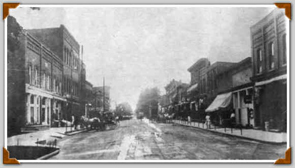 Main Street, 1912


View our historic photos
When the Milan Area Historical Society was established in 1972, its first order of business was to acquire and preserve a 1938 Milan Fire Truck.
On June 11, 1980, the MAHS had another milestone; it received the deed to the Hack House from Owens, Illinois. The Victorian-style home was built in 1888 by Olive Friend. She paid for the land and buildings with money she obtained in the "sugar scandal" on the New York Stock Exchange. The home had been occupied for many years by Jim and Daisy Hack, who sold it to Owens, Illinois before they entered a nursing home. Warren Hale, Milan's police chief at the time, took an interest in saving the home so it could be used as a museum for the MAHS. His goal was accomplished in 1980, when he received the deed. Daisy Hack herself attended the ceremony!
Another big day for the MAHS was Nov. 26, 2002. After many months of hard work and fund-raising, community volunteers were able to save the old fire barn from destruction. The building was restored and now stands in its full glory in downtown Milan, where Main Street splits off from County Street.
When it first organized, the Historical Society decided to include the area around Milan that was not covered by other Historical Societies. This area includes four townships in two counties. Those townships are York and Augusta in Washtenaw County, and London and Milan townships in Monroe County.
Since being formed the Society owns the Hack House for a museum in Milan and the old Milan Fire Barn. It has also created a copyrighted logo - The Old Crooked Tree, based on a sugar maple that used to stand at the north-west corner of County Street and Dexter.